Lemongrass, Ginger & Lime Fizz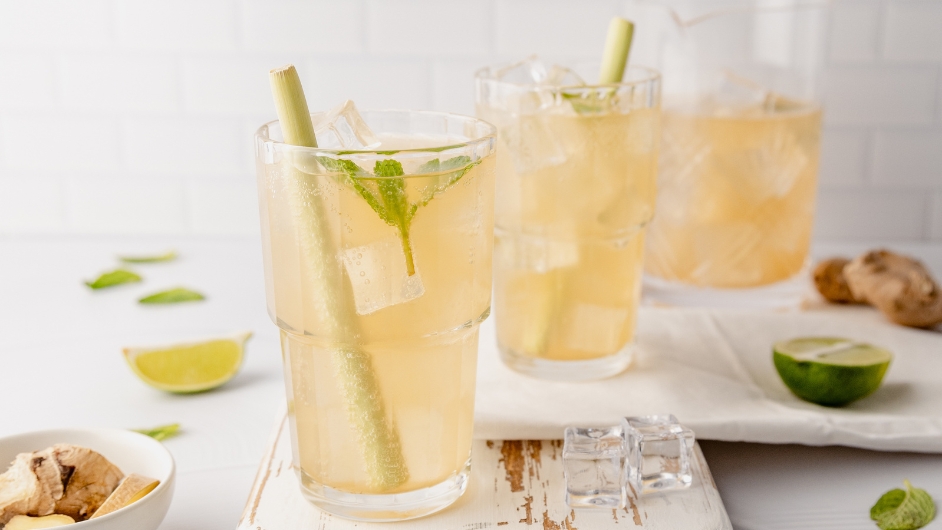 Lemongrass, Ginger & Lime Fizz
Recipe by nutritionist Casey-Lee Lyons from Live Love Nourish, IG: @livelovenourishaus
Ingredients from Indooroopilly Fruit & Woolworths.
Serves 2:
Ingredients:
1 lime, juiced
2cm fresh ginger, sliced
1 stalk lemongrass, thinly sliced
650ml ginger fizzy drink of choice (recommended: Remedy Ginger & Lemon kombucha)
1/4 cup fresh mint
1 tsp honey
Ice
To garnish:
Lemongrass stalk
Fresh mint
Method:
Into a jug or suitable container squeeze lime juice and add in lime half, ginger, lemongrass and mint. Using the end of a rolling pin to roughly crush, bruise ingredients to release flavours.
Add 250ml ginger drink and allow to infuse for 15 minutes.
Strain liquid. Add honey and mix to combine.
When ready to serve, divide ice into glasses, pour over strained liquid and top with remaining ginger kombucha/ fizzy drink.
Use trimmed lemongrass stalks as a swizzle stick for a fun and fragrant element. Garnish with fresh mint.
Download the shopping list
here.
Recipe credit:
Recipe by nutritionist Casey-Lee Lyons, Live Love Nourish.
Passionate about helping others to live a healthier life, nutritionist, recipe creator and mum Casey-Lee Lyons
from Live Love Nourish shares nutrition tips and easy, delicious recipes to nourish. Through her refreshing
approach to health she aims to help others feel empowered and inspired to live a nourishing, healthy and
happy life. She also specialises in healthy recipes free from gluten, dairy and other dietary requirements.
Website:
www.livelovenourish.com.au
Instagram:
@livelovenourishaus
Facebook:
@livelovenourish