Create your dream tablescape for under $200
Monochrome isn't just for the catwalk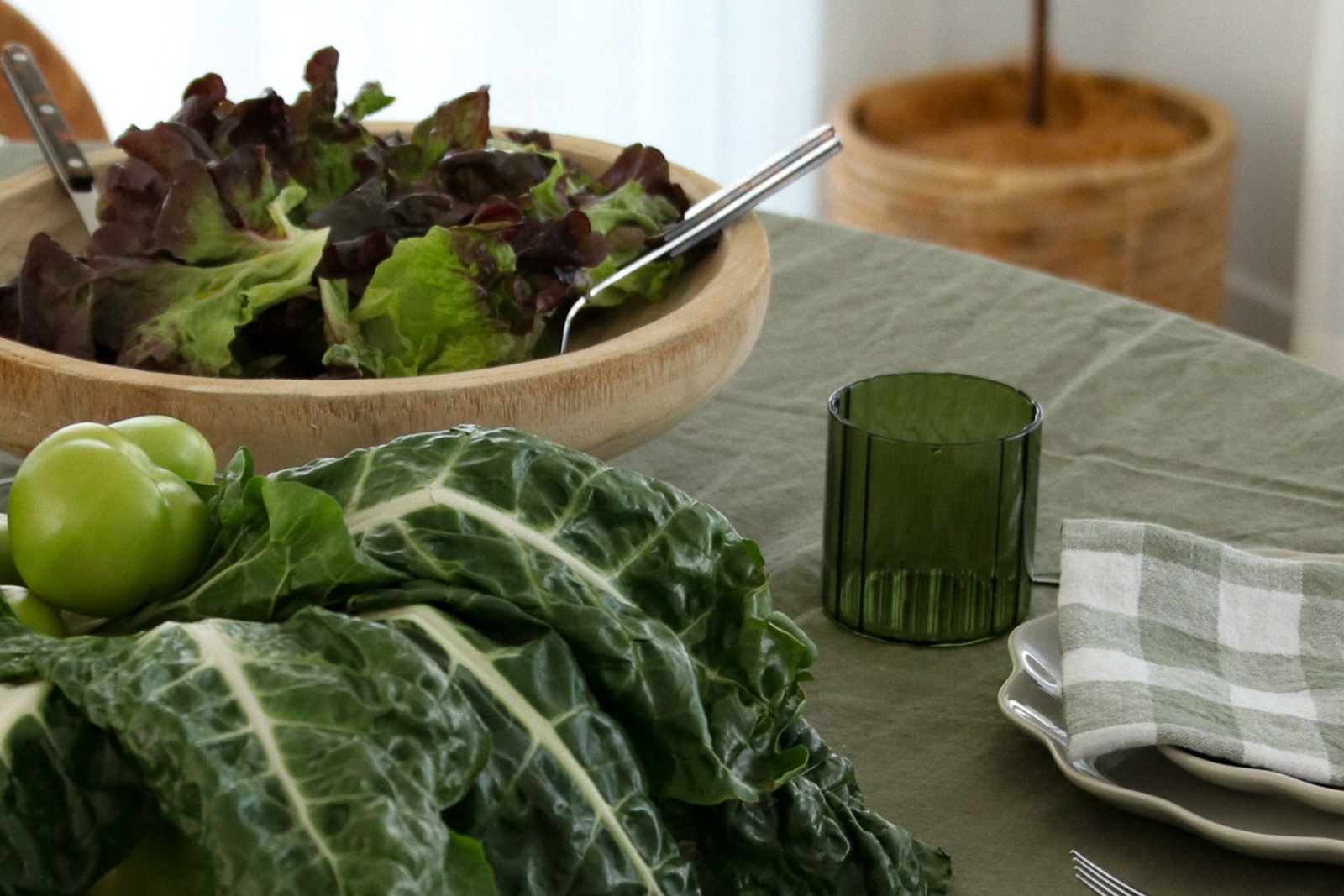 As the festive season creeps up, so do all my commitments to hosting friends and family in my home. For those of you who don't know me, I'm Jacqui, a Brisbane based cook, nutritionist, recipe developer & food stylist. I come from a big Cypriot family where food is our love language. Over the years I've learnt the importance of food & cooking and how it brings me so much joy.
This month I am partnering with Indooroopilly Shopping Centre to share my tips and tricks when it comes to hosting and styling your own incredible dinner parties that get their own hashtag, and hopefully fall in love with the process.
Here's how to wow your guests at your next dinner party…
Monochromatic home decor is taking a cue from fashion and quickly becoming one of the easiest and luxurious ways to create a lush table setting for the upcoming event season.
Traditionally, monochrome is often seen as black and white (technically monochromatic), but in reality, and recent trends, we've seen several shades of the same colour used.
In order to create a successful monochrome tablescape, you need to incorporate a range of texture and materials and include shade variation. There's no pressure to make every element match, a wide range of hues and tones is welcomed.
I wanted to explore this monochromatic trend and use it to create my dream tablescape. If you know me, you know I love to entertain, but as the festive season approaches, the number of dinner parties I plan on hosting is increasing. I have myself a challenge of creating the perfect, on trend, tablescape for under $200, and here's how I did it…
Colour
Pick your colour, and pick it wisely. I love neutrals, but I also wanted to challenge myself with a bold tone to create a dramatic effect. With green quickly becoming the new neutral - it was perfect.
Green also allows for variation in shades; forest green, lime, sage, olive etc.
After taking a quick walk around Indooroopilly, I knew there was plenty to choose from across all retailers.
Linen
Let's start with the base, linen. This will set the scene and be the bulk of your monchrome colour. I knew I wanted a 'rustic' linen to create texture, when I strolled into Myer and found the Ladelle Gibson tablecloth in Moss, I knew this would work. I picked this up for $69.
I'm a big fan of fabric napkins on a tablescape, it's an easy way to elevate the setting. To contrast the strong moss green tablecloth, I opted for the Adairs Belgian Forest & White Check Vintage Washed Linen Napkins they came out at $10 each.
View tablecloth & napkins here.
Crockery
Textures, patterns, lines & shapes. There's a lot to think of when it comes to crockery choices, let's keep it simple.
To mix up the texture I chose a gloss scalloped edge dinner set from Target, which in my opinion is the hero of the setting. I went with the gloss to contrast the matte and linen textures of the other items, and the colour was phenomenal, initially it looks gray, but next to the forest green linen, a tinge of olive shines through.
Let's be honest though, we're all swooning over anything scollop or wavy at the moment, and at $4 a plate (both sizes) it brings the latest trends to your table at less. To add to the shapes and lines, I couldn't walk past the Kmart wavy green tumblers at $14 for 6. The deeper green also added a beautiful hue to the table.
View dinner set & tumblers here.
Center piece
This was something I'd had pinned as inspiration for months, and it finally paid off! I strolled around the fresh food retailers looking for fresh produce in all the green hues. Being mindful of waste, I like using fresh produce for centerpieces, it allows me to use it up in cooking.
To create abundance and height, I arranged silverbeet in salad bowls and anchored it down to give height with some green tomatoes and added a touch of gold with glass gold candle holders from Target, $18.
I didn't want to crowd the table too much, remember, your food can also play a part into your tablescape. With a banquet style dinner I bought in more shades and textures with fresh salads, moreton bay bug rolls, roasted greens and more.
View centre piece here.
All together I created this monochrome green tablescape for $198.
Here's my breakdown: