Silly season inspiration with Brooke Falvey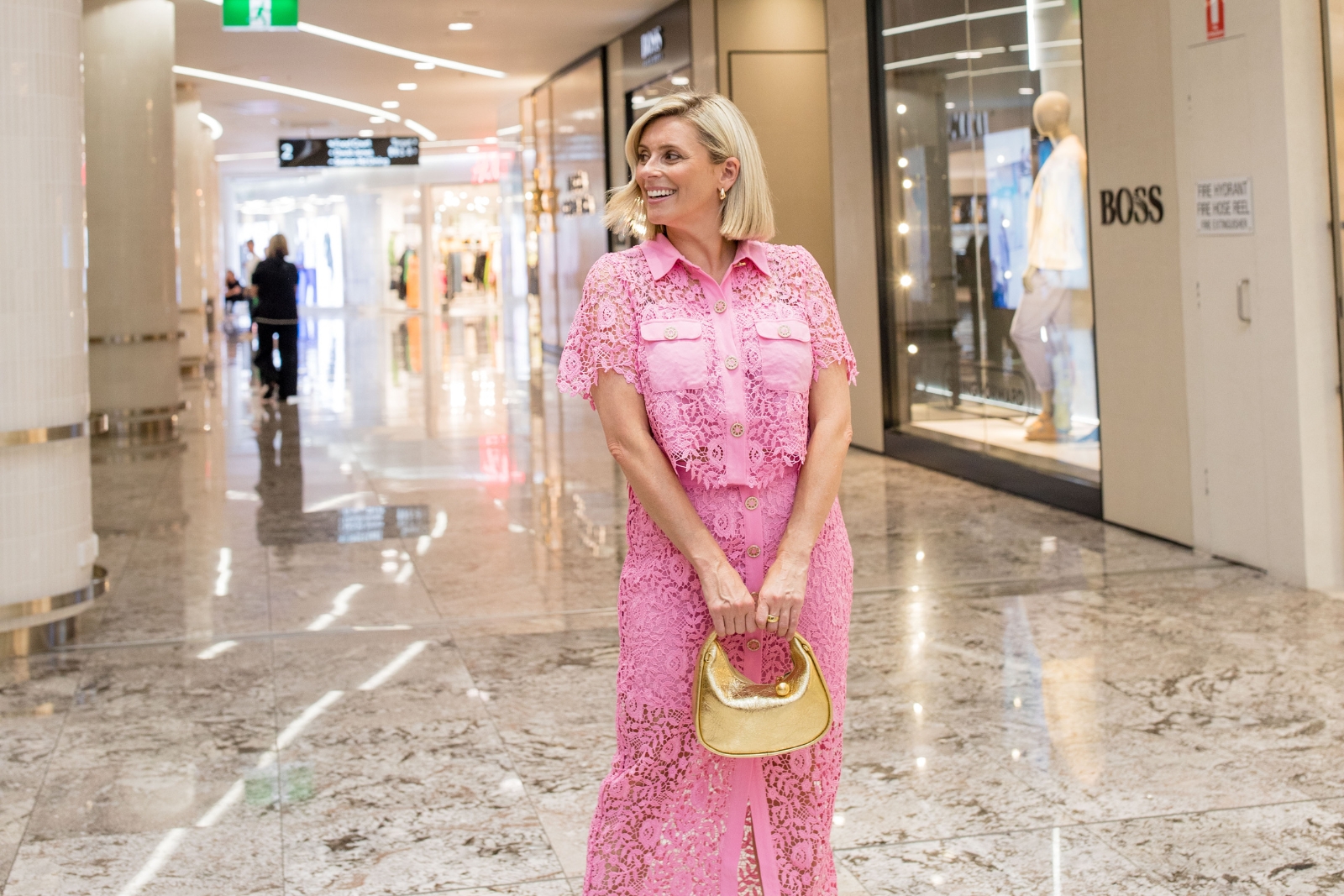 It's the time of year when invitations start rolling in for everything from the work Christmas party to your annual catch up with friends, Diner en Blanc and even summer weddings.
Here's a go-to guide to help you get started when it comes to finding outfits for those big events (and the dress codes that come with them!), with my favourite picks thrown in to get you started.
BLACK TIE GALA (OR WEDDING)
Think formal attire and glamorous details. Ideally, a floor-length gown is the way to go for formal weddings, charity galas and awards ceremonies.
Black is always a sure-fire hit and easy to accessorise, but don't be afraid to opt for a bold hit of colour to stand out from the crowd, although red, navy, or emerald complement many skin tones.
For accessories, choose a dramatic necklace or statement earrings, but never both. And an evening bag is a must; invest in one metallic clutch that can look dressed up or down for a mix of events.
My favourites:
Look 1: Aje Rosewood Ruched Gown paired with Aje Kaya Low Droplet Heel.
Look 2: Forever New Selena Ruffle Shoulder Maxi and Olga Berg Casey Clutch from Myer.
DINER EN BLANC
This dress code is so simple, it can feel complicated. Why? Because the dress code for Le Dîner en Blanc is strictly white-on-white.
And I do mean STRICTLY, with the only exception of metallic jewellery. No black piping, no pops of colour. All white, all right?
It's summer in Brisbane, so take into consideration you need something that will survive the heat (and sweat!); you'll also be walking and standing for around an hour before arriving at the event. Then there's the eating, drinking, and dancing; rain, hail, or shine.
Some people dress more like a garden party with linen trousers or summer dresses. Others will go all out with formal wear, or elaborate, creative looks. Whatever you choose to wear, be sure to pass on the flip-flops, sneakers, jeans, shorts, or athleisure.
My favourites:
Look 1: Aje Agatha Knot Waist Midi Dress and Mirage Woven Sculptural Heel, with Oroton Clara Mini Bag.
Look 2: Oroton Lace Flower Sheer Dress & Gretel Mini Top Handle Bag, with Billini Caspian Heel.
LONG LUNCH
I love lunching; the food; the drinks; the laughter shared with friends; and especially the fact I can have a great day yet still be home before dark.
When it comes to what to wear, think throw-on-and-go dresses, coordinating sets, silk, pastels, and overstated prints. Basically, the world is your oyster.
Tailor your outfit to suit the theme of the event. For example, for a bridal or baby shower, you may wish to opt for pieces featuring lace or ruffles to create a whimsical romantic feel. While, for a corporate lunch, you couple opt for something a little more fitted like a tailor jumpsuit or a blazer dress.
My favourites:
Portmans Starlight Lace Shirt and Showstopper Lace Skirt with Oroton Clara Mini Bag and Target shoes.
GARDEN WEDDING
Garden weddings, beach weddings, garden parties and barbecues all require the same thing - a well thought out shoe.
Wherever you're headed, if it involves grass or sand, ditch the stiletto heels and grab yourself a pair of metallic or nude wedges or espadrilles, embellished sandals, or even a pair of sparkly ballet flats.
When it comes to outfits, look for colours and prints that lean into the natural surroundings, and give black a miss. A midi dress with floral patterns or pastel tones is always a winner especially in breathable fabrics such as linen, silk or cotton to stay cool and comfortable in the outdoor setting.
My favourites:
Forever New Haisley Flounce Midi Dress and Mallory Weave Clutch.
CHRISTMAS PARTY (or Christmas Day outfit)
There are so many celebrations to attend during the last few months of the year - and, if you're anything like me, you'll want to look great at ALL of them. And then there's the big day itself - getting all dressed up just to hang out in my parents' kitchen eating Roses chocolates straight out of the box.
I love any opportunity to glam up and this year there are plenty of options - from bold colours to the magic of monochrome, a 'one and done' dress or jumpsuit to the matching magnificence of a coordinating set.
Whatever you choose, make sure you're wearing shoes that will see you through some long hours on your feet - and a twirl around a dance floor. Or go for something simple and amp up the accessories - a statement clutch, or jewellery can take even the simplest of outfits and make it festive.
My favourites:
Morrison Zeta Maxi Dress and GB Fringed Sun Clutch.
Watch Brooke's reel here to see all of her silly season looks