Ginger Lemongrass Chicken Poke Bowl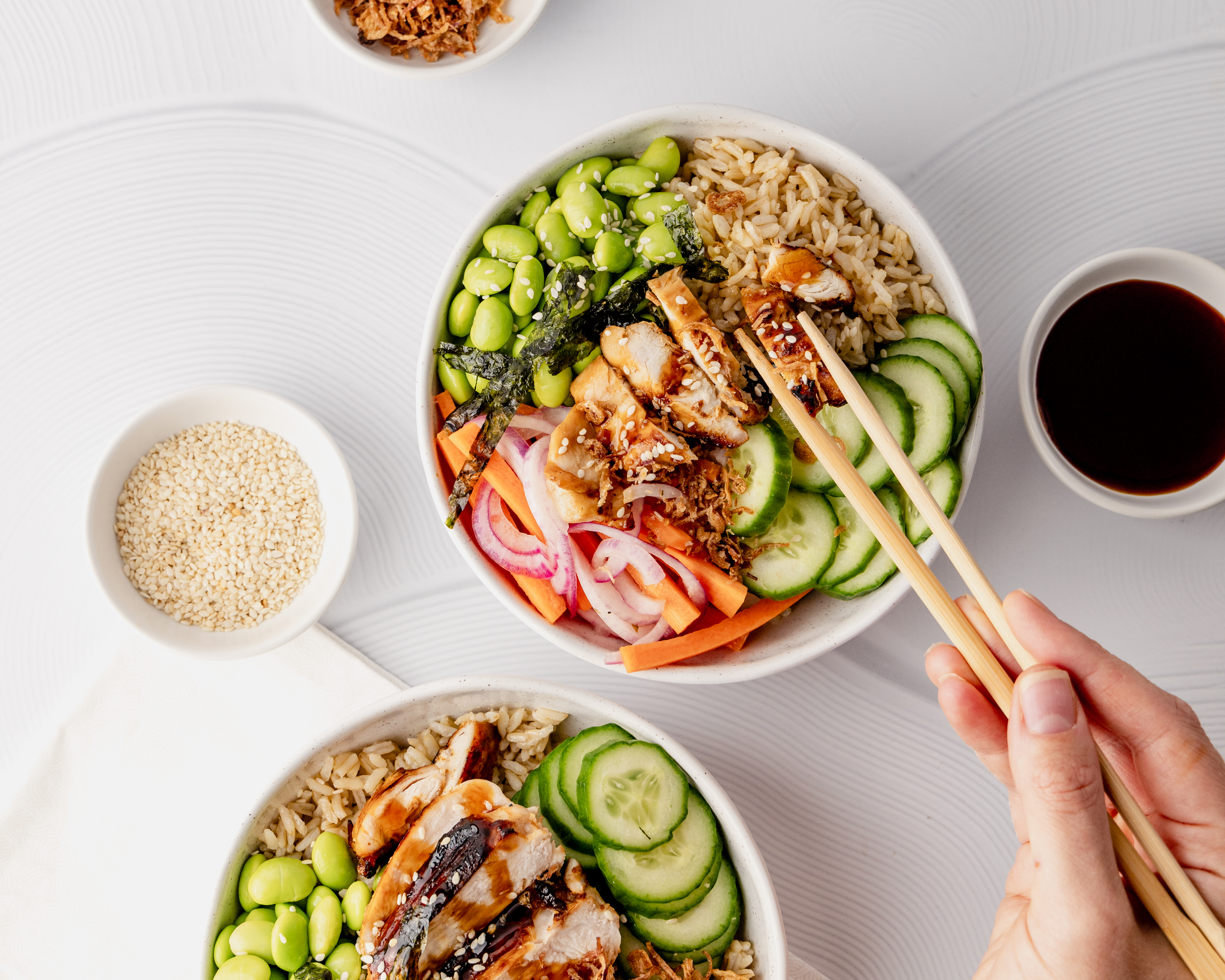 Ginger Lemongrass Chicken Poke Bowl
Recipe by nutritionist Casey-Lee Lyons from Live Love Nourish, IG: @livelovenourishaus
Ingredients from Andrew's Meats, Indooroopilly Fruit, Sunlit Asian Grocer & Hanaromart.
Serves: 2
Ingredients:
1 cup cooked brown rice
2 chicken breast
1/2 cup edamame beans
2 small cucumbers, sliced
1 carrot, julienned
1 small red onion, finely sliced
Marinade:
1/4 cup tamari
1 tbsp honey
1 lemongrass stalk, woody parts removed, crushed and finely chopped
1 tsp minced ginger
1 tsp minced garlic
Toppings:
Sesame seeds
Fried shallot
Toasted seaweed, cut into fine strips
Optional dressing:
Sirracha mayo, tamari soy sauce or sweet chilli sauce
Method:
In a mixing bowl combine tamari, honey, lemongrass, ginger and garlic. Add chicken and toss to coat. Set aside to marinade whilst you prepare other ingredients.
In a small bowl add red onion, carrot and lemon juice. Set aside.
Cook brown rice according to packet instructions and set aside.
Blanch edamame beans.
Pre-heat grill pan or frying pan over medium heat. Add olive oil for cooking.
Add chicken breast and cook 4-5 minutes each side or until chicken is cooked though. Allow to sit and slice into pieces.
To assemble your poke bowl, first layer with brown rice, top with cucumber, carrot, edamame and chicken.
Drain red onion and add to bowl.
Finish with sesame seeds, fried shallots and chopped seaweed.
Drizzle of optional additional dressing.
Download the shopping list
here.
Recipe credit:
Recipe by nutritionist Casey-Lee Lyons, Live Love Nourish.
Passionate about helping others to live a healthier life, nutritionist, recipe creator and mum Casey-Lee Lyons
from Live Love Nourish shares nutrition tips and easy, delicious recipes to nourish. Through her refreshing
approach to health she aims to help others feel empowered and inspired to live a nourishing, healthy and
happy life. She also specialises in healthy recipes free from gluten, dairy and other dietary requirements.
Website:
www.livelovenourish.com.au
Instagram:
@livelovenourishaus
Facebook:
@livelovenourish