Get to know Hey Aidan
Meet the creative behind our V-ART STUDIO!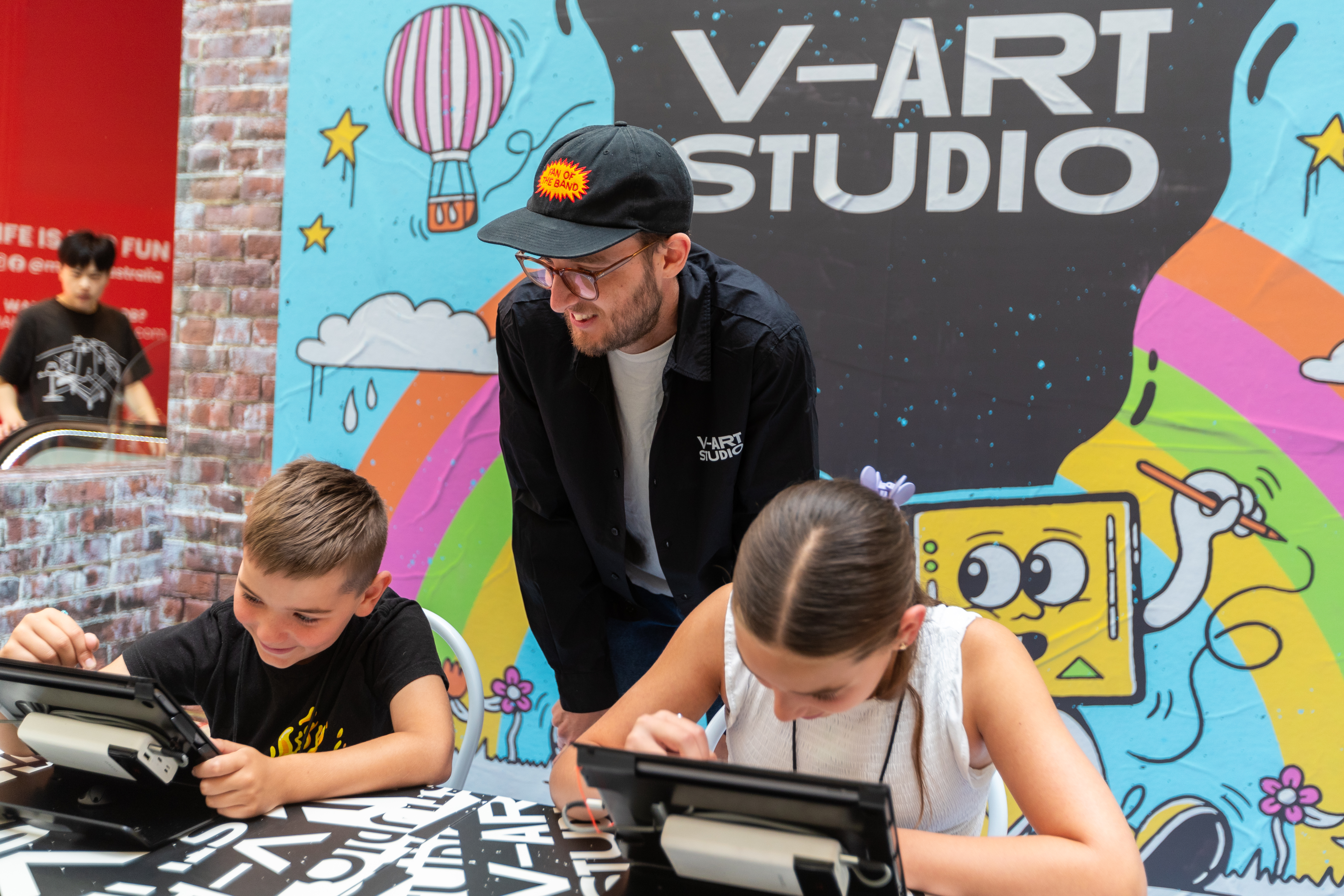 We have collaborated with Brisbane artist Aidan Ryan or as some know him as Hey Aidan, these school holidays to bring you V-Art Studio. This activation brings the world of virtual reality to reality with digital drawing through a VR Art Simulator. We sat down with Aidan to get to know him and his creativity a little better...

How did you get into illustration and design?
I used to draw a bunch when I was younger but hadn't really thought much about it until I was in my final year of my Bachelor Degree in Digital Media. I majored in Graphic Design so incorporating illustration into my work just made sense. Since then, I've worked a handful of design jobs white illustrating on the side, slowly finessing my craft. Now I work full-time creating fun illustrations and designs for a variety of clients and individuals.

What drives your passion to design every day?
Just having a love for the craft and getting to experience fun opportunities through my illustration and design work. It's not everyday I get to create virtual spaces for kids to come in and paint with me. These opportunities wouldn't present themselves without my dedication and passion for illustration.

What excites you about using VR in your art?
This was the first time I have experienced VR so it has been an amazing being able to bring my illustrations to life. I've always wanted to paint larger scale illustrations, so it has been exciting being able to experiment with this format without buying paint or getting paint on my clothes.

What has been your favourite part about the V Art Studio Project with Indro?
My favourite part was my second time in the V-Art Studio space, when I was taking requests from the kids on what to paint. One of them requested I paint Darth Vadar from Star Wars and I had so much fun painting him. I can safely say I've never drawn Darth Vadar before, so it was a great opportunity to draw him. The best part was seeing the kid's reaction! Their mouth was wide open the whole time with astonishment.

What inspires you to teach kids how to use their creativity?
Being able to give them the tools to express themselves however they want is so fun to see. With the V-Art Studio, we've had a range of results but the kids always have a blast no matter what they do. Some just enjoy exploring the virtual space or experimenting with colour and colouring in the templates, to breaking the mould and illustrating their name, favourite food or even a self/family portrait. It's a fun reminder that they don't have to have the technical abilities to express themselves.

Do you have any tips for unlocking creativity for those who believe they have none?
Start small and simple. A lot of the time when the kids are stuck with what to draw or paint, I suggest writing their name with their favourite colour, to drawing their favourite food or object that they cherish. These drawings come from within and are personal to the individual, so no matter how they illustrate them, you're being creative and expressing yourself.

What advice would you give for someone wanting to pursue a career in art & design?
Pursuing a career in Art & Design is such a great way to go about making your mark in the world and contributing to society in a positive way. There are a lot of little pockets within the industry that you can specialise in and are inclusive and welcoming. Although it takes hard work and dedication, I've found that being passionate and persistent with your work goes a long way and people tend to recognise this and want to push you to succeed. If this is something you want to work towards, start practicing your craft as much as you can and in time you will grow with it. I've been working in the industry since 2016 and I'm still growing and learning and that's okay! Creativity is a journey and not a destination.